I've been a busy bee lately! One commission was for a pair of Bedside Reading lamps. I made a third to work through my concept. The client requested dimmable LED bulbs on this and a previous project. They work great! The Base of the lamps are from vintage film projectors and include the utility of the original drawer compartment. The brass, ball shaped shade pivots on two axis. The arms are made of Carbon Fiber and Phenolic with glass marbles. The arm is adjustable by the knob on the base. See more, including video here.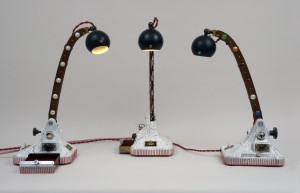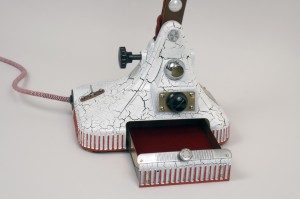 I had a group show opening at a new space Opiate Gallery in old town Fort Collins, Co. Dec. 2nd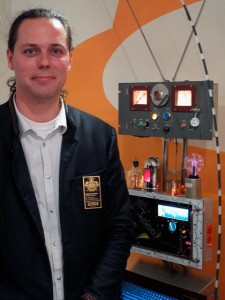 I also completed a clock commission last week. I used glass stopcocks to mark the hours and a hemispherical mirror for the body. The clock is 10″ diameter.